01 Nov 2018
Global Lime Industry joins Vision Zero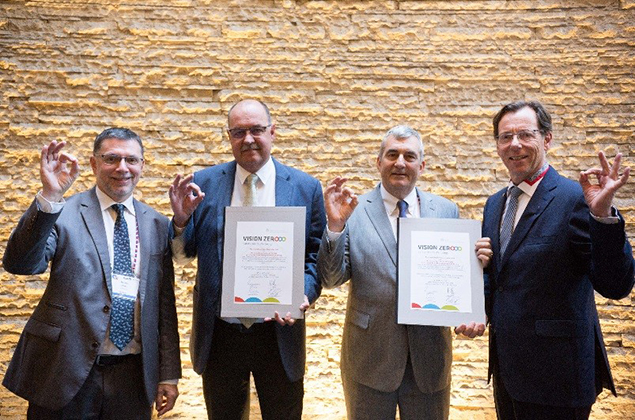 On the occasion of the annual meeting of the International Lime Association (ILA) in Cape Town, South Africa, an agreement was signed to join the Vision Zero movement.
The global lime industry represented by the International Lime Association (ILA) consists of members from 35 countries in all continents, globally representing more than 2,000 lime-producing companies with a workforce of about 200,000 people. The purpose of ILA is the exchange of information and experiences on all subjects that are of interest to the lime industry worldwide including environment, health and safety, economy and international co-operation, science, technology, research and standardisation.
More than 120 delegates from 22 countries attended the annual conference. The Secretary General of ISSA Mining, Helmut Ehnes, gave a speech on Vision Zero and invited the representatives of ILA – newly elected President Paul Ellis from Malaysia, the leaving President Wayne Brown from South Africa and the Secretary General Dr Thomas Stumpf from Germany – to come on stage to sign.
ILA President Paul Ellis confirmed the importance of Safety & Health topics for the industry and committed all ILA members to the Vision Zero Strategy, stating that safety goes hand in hand with product quality as well as sustainability and the reputation of the industry. Mr Ellis called upon all ILA members to strengthen their commitment to health and safety.
The ILA and ISSA Mining agreed to cooperate closely in order to reach the aims of Vision Zero, with next steps including the development of an action plan to create a positive impact for the agreement.