11 Mar 2020
Vision Zero in India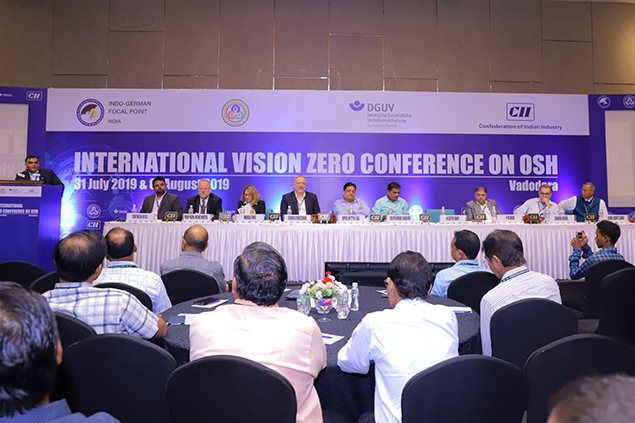 The Vision Zero community in India is growing steadily. In India, almost 200 companies and organizations have already joined as Vision Zero partners. Many of these have been introduced to the concept of reducing work-related accidents and diseases by bringing the 7 Golden Rules to the workplace at a Vision Zero Conference.
Since the International Vision Zero Conference at Delhi in March 2017, DGUV (German Social Accident Insurance) and BG BAU (German Social Accident Insurance Institution for the building trade) have organized seven Vision Zero conferences in different states, with the support from the International Social Security Association (ISSA) Prevention Sections for Construction, Electricity, Mining, Transportation and Information.
The Indo German Focal Point, founded in 2017 by DGUV, BG BAU and BG ETEM (German Social Accident Insurance Institution for the energy, textile, electrical and media products sector) supports the implementation of DGUV activities in India. The Focal Point has been a co-organizer of the Vision Zero Conferences in Gujarat (Vadodara), Karnataka (Bangalore) and Odisha (Bhubaneswar), as well as for the Indian Safety Song and Video Contest. Besides this, the Indo-German Focal Point regularly offers workshops, plays, training and awareness programmes on Vision Zero in India and prominently presents these activities at Vision Zero events, for example in Singapore and Helsinki. Over 14,000 individuals and more than 400 institutions have been introduced to Vision Zero through these activities. This work would not be possible without the support from DGUV, BG BAU and BG ETEM and the close cooperation with the State Government Labour Departments in India.
The cooperation between India and Germany in the area of occupational safety and health (OSH) has been approved by the Indian Union Cabinet on 5 March 2020. A press statement explained that under this agreement, the DGUV through the ISSA brings in the know-how to meet OSH challenges, especially in the construction and manufacturing sector.