15 Mar 2019
Next steps for Vision Zero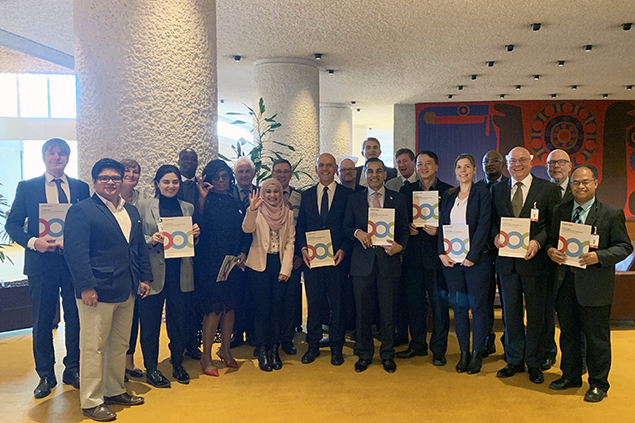 The first Vision Zero Global Strategy and Programme meeting was held in Geneva from 28 February to 1 March 2019. Gathering representatives from international organizations, ministries and national social security institutions from almost 20 countries, the meeting planned the next steps for the Vision Zero campaign. Initiated by the International Social Security Association (ISSA), the meeting took place at the International Labour Office.
Since the launch of Vision Zero, the first global campaign for safety, health and wellbeing at work, in September 2017, the campaign has mobilized over 3600 supporters worldwide. The meeting was held to gather key international partners, share achievements and good practices, then discussing strategic next steps to further strengthen its positive impact on the world of work.
A number of inspiring presentations gave evidence of the value of the Vision Zero campaign, for example from Europe, Tim Tregenza, from the EU-OSHA focussed on outreach to micro-companies. Elizabeth Lungu-Nkumbula, from the Workers Compensation Fund Control Board presented their national launch and awareness raising campaign in Zambia. From Asia, Dr. Mohammed Azman from the Social Security Organisation (SOCSO) of Malaysia presented several initiatives, including a project to reduce commuting accidents.
The meeting was chaired by the ISSA President, Prof. Dr. Joachim Breuer, and Secretary General, Marcelo Abi-Ramia Caetano. In his conclusions, the ISSA President highlighted the importance of sharing of good practices in the Vision Zero community, globally, regionally and nationally. Many Vision Zero events are planned, and an international planning meeting place will be the 1st Vision Zero Summit in Helsinki, Finland in November 2019.