29 Nov 2018
Vision Zero launch in Japan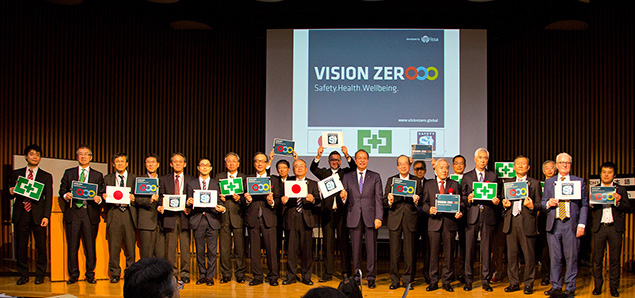 Vision Zero was launched in Japan during the Safety 2.0 International Safety Symposium 2018 organized by the Institute of Global Safety Promotion (IGSAP) on 20 November 2018 in Tokyo.
The ISSA Secretary General Hans-Horst  Konkolewsky's presentation of the Vision Zero concept and its 7 Golden Rules was received with great interest the more than 150 participating representatives from private enterprises such as Toyota Motor Corporation and Shimizu Corporation, as well as a number of representatives from public organisations.
On occasion of the launch, ISSA Secretary General Hans-Horst Konkolewsky further held talks about Vision Zero with Mr Yamaki, President of the Japan Industrial Safety and Health Association (JISHA) and with Mr. Shiba, the Deputy Director in the Ministry of Health, Labour and Welfare of Japan.
The next national Vision Zero launch will take place in Zambia on 14 December.