25 Oct 2018
Vision Zero launch in Hong Kong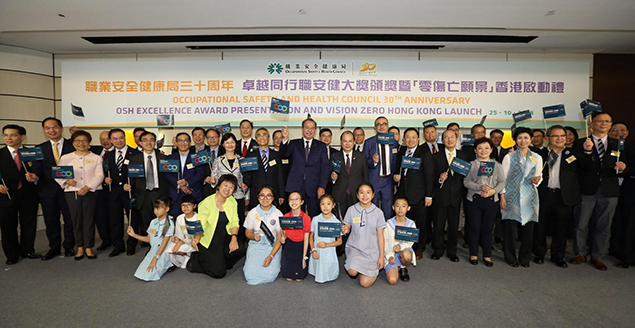 The Vision Zero campaign was launched in Hong Kong on 25 October 2018 during the celebration of the 30th Anniversary of the Occupational Safety and Health Council (OSHC), the institution responsible for promoting safety and health at work and sustaining the valuable workforce of Hong Kong.
Hans-Horst Konkolewsky, Secretary General of the ISSA, presented the Vision Zero concept and moderated a roundtable discussion with Dr Alan Chan, the Chairman of the OSHC, Vera Choi, Acting Assistant Director of the Hong Kong Housing Authority (HA), Thomas Ho, Chief Executive of Gammon Construction Limited and Victor Kwong, Head of Corporate Health, Safety, Environment, Security Department of the Hong Kong and China Gas Company Limited (Towngas).
The panellists presented why and how their organizations had embarked on the Vision Zero journey and expressed their commitment to the continuous improvement of safety, health and well-being. Mr Chan announced that the OSHC will arrange Vision Zero training for interested public and private companies and hold annual Vision Zero sharing events to facilitate the exchange of good practices amongst Vision Zero Companies and Partners in Hong Kong.