Lloret de Mar, Spain, 12 May 2021
Vision Zero Safety Future Congress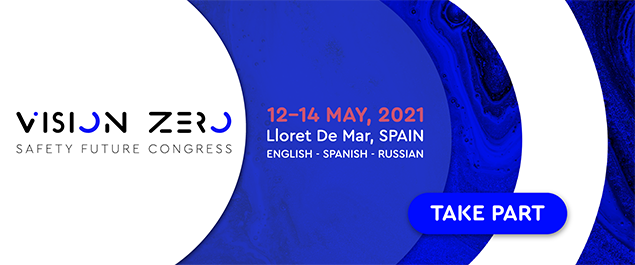 The most progressive event in the field of occupational safety, health, and ecology - "Vision Zero Safety Future Congress" will take place on May 12-14, 2021, in Lloret de Mar (Spain).
The international forum in three languages (English-Spanish-Russian) will be the main platform for discussing progressive global approaches and effective practices, demonstrating advanced technologies and innovative products in the field of labor protection, health, and the environment.
Lloret de Mar will bring together more than 70 leading speakers from all over the world and specialist from Spain, Russia, UK, USA, Germany, France, Denmark, Italy, Austria, Portugal, Australia, Singapore, Japan, China, Hong Kong, Chile, Colombia, Brazil, Nigeria, Kuwait and CSI countries will actively take part of the Congress.  
The organization of an international forum with the participation of managers and experts of the largest Russian and foreign companies - leaders in the implementation of the international concept of "Vision Zero" which Russia recently joined - will promote a more effective discussion of current issues of labor safety, as well as ways and methods of further professional improvement based on the experience of leading global companies in the field of occupational safety management.
More than 30 business sessions on current topics in the field of safety, health, and ecology are planned with the participation of government representatives, international organizations, business and leading industry experts. There will be a demonstration of the main trends, innovative and technological solutions: AR / VR, artificial intelligence, big data, sensor technology (IoT), smart PPE, unmanned aerial vehicles, and others.
Besides the novel and practical business program, Vision Zero Safety Future Congress offers technical tours to pharmaceutical, metallurgical, machine-building, chemical companies, transport-logistic, beverage producers, and new technology companies.
The international format of the event will establish extensive discussions among experts from different countries about the best domestic and foreign practices of systematic safety and the development of proper working conditions along with the implementation of highly effective labor protection management systems, industrial, fire, and environmental safety, modern methods of personnel work and the social protection of personnel.
The Vision Zero movement caused a great response all over the world. Today, this concept has become the main goal that many companies strive for in their work. This is an idea that drives progressive thinking!