14 Jun 2018
Vision Zero on the agenda in Denmark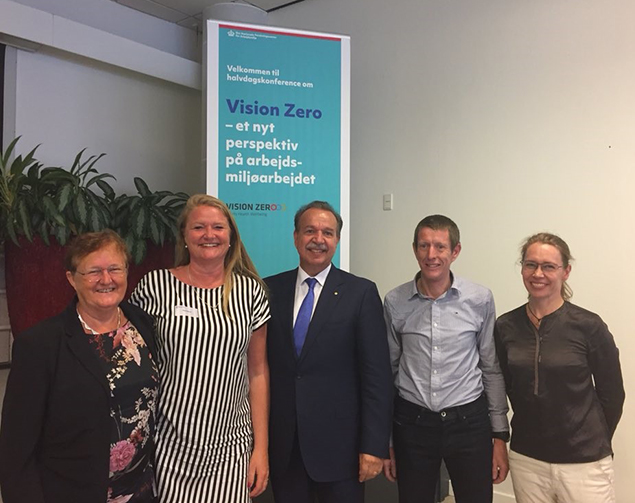 This week, two Vision Zero events were organized in Copenhagen, Denmark, one by the National Research Centre for the Working Environment (NRCWE) and one in relation to a meeting organised by the pharmaceutical company Novo Nordisk.
On 11 June, the NRCWE organized a thematic meeting on Vision Zero as a new approach to safety, health and wellbeing at work which was attended by more than 100 researchers and experts in the area of occupational safety and health. Danish Vision Zero partners and companies shared their experiences, and there was great interest in the Vision Zero concept and its 7 golden rules.
On 12 June, Novo Nordisk organized its annual meeting for over 500 occupational safety and health experts and senior management from the Production and Supply Division. Novo Nordisk is a global healthcare company with 95 years of innovation and leadership in diabetes care. Headquartered in Denmark, Novo Nordisk employs approximately 42,700 people in 79 countries and markets its products in more than 170 countries. Novo Nordisk is one of the first Danish Vision Zero Companies.
The global Vision Zero campaign was developed by the International Social Security Association, and Secretary General Hans-Horst Konkolewsky participated in both the events to present the Vision Zero concept, to give a status of the campaign and to discuss with participants.